3.3. MIDI configuration
Go to menu Options -> MIDI configuration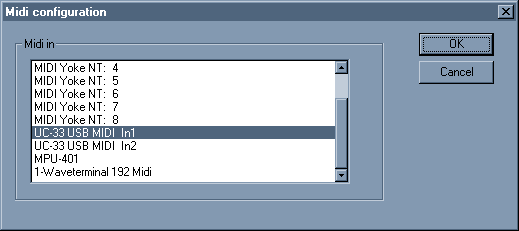 This tab let you choose one or more MIDI input port.

At the moment, Wavosaur is receptive to MIDI Control Change messages,
you can use a MIDI external controller to trigger the main fonctions in Wavosaur.
Here's the list of MIDI CC that can trigger Wavosaur :


MIDI CC 35 : play
MIDI CC 34 : stop
MIDI CC 27 : pause
MIDI CC 28 : record
MIDI CC 36 : rewind
MIDI CC 37 : forward
MIDI CC 33 : volume
MIDI CC 31 : go to next marker
MIDI CC 30 : go to previous marker
MIDI CC 29 : back to start
MIDI CC 38 : toggle windows

You can edit the wavosaur.cfg file to assign your own CC numbers.